Greetings all, I'm sketchzr and I've been playing poker on/off for about 2 years with no defineable success. This is my 3rd attempt at playing poker properly, and is a complete change over the way I used to play.
I started off with a free BR on Full Tilt Poker a couple of years ago, stuck to a basic game and never really got anywhere, I did however manage to keep my roll and break even pretty much until they shutdown, moments before I could've cleared my bonus which was only slightly annoying. Shortly after I was offered a free $50 on PartyPoker courtesy of PokerStrategy, so I took up the offer and began playing there.
After a short time of playing there (about 2k hands) and not really doing much research, I quickly lost $15 of it and blamed it on the site being rubbish (one of my downfalls is my ability to tilt quite easily and not notice).
After my foolish thoughts had disintegrated I had a revelation, I thought if I put the time in, make plenty of written notes and read a variety of material, then I have as much potential as anyone else right? So I began watching videos, reading articles here and elsewhere and started taking the game a lot more seriously, recognizing when I tilt more often etc.
This is pretty much the start for me, my first real attempt at being a decent player so I don't know what's going to happen from here, but like everyone here I hope poker brings me success. It's a game I truly enjoy playing and also it'd be cool to make some extra money from playing it as times are hard atm!
I'm currently playing NL4 as I deposited some extra dollars. Since I started studying a lot harder my graph has started going upwards more than it has previously, be it due to luck, skill or both.
This is currently how I stand since I started studying much more and playing differently, which was tbf only like 4 days ago but I do feel like I've learned more in this time than I ever did before.
Graph of the past 4 days (the thin line is All-in EV, it decided to turn black and white for this picture):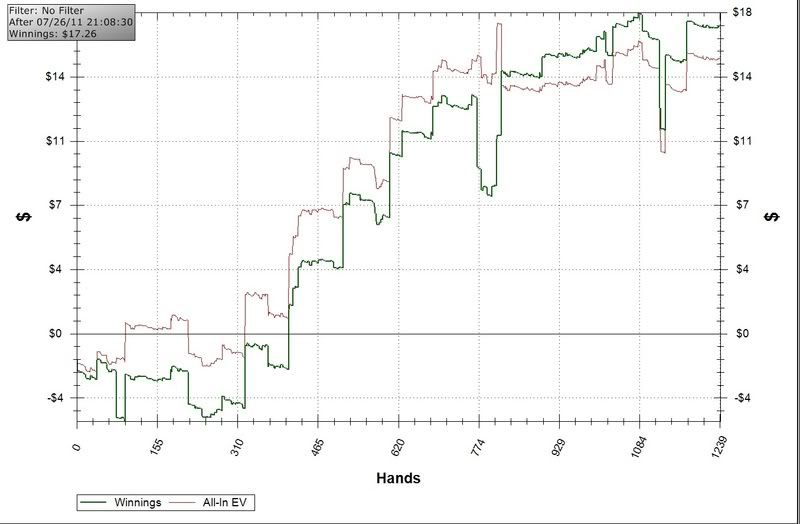 Graph before then:
As you can see in the statistics above, there is a clear difference.
my main realistic objectives are to:

- Study for atleast half an hour before I play, preferably an hour
- Move up to NL10 in 2 months (may prove difficult, I still have much to learn)
- Earn a decent secondary income from playing (nothing too far-fetched), thus justifying the amount of time I sit infront of my computer

My main unrealistic objectives are:

- Earn mirrions of dollars and become sketchzr, almighty God of poker
- Buy a lamborghini
- Move to Canada and live in the wild operating a marijuana factory
- Eat 12 chicken nuggets in under 30 seconds

If you got this far, I thank you for reading my overly long blog introduction, I shall try to keep it updated and post hands/graphs and whatever else I feel is relevant. Thanks!
To conclude my post here's a song from one of my many favourite bands -