Black Friday was brutal for most American poker players. I've spent the last four years thinking deeply about my game and trying to stay up-to-date with the evolution of poker. My results from 2010 and 2011 were consistent - something I would attribute to working hard on the emotional part of my game which I still struggle with:
Around 300K of this was at 100NL, 260K at 200NL, 125K at 50NL, 100K at 25NL, and 95K at 10NL. As you can see, I played the whole micro-SSNL spectrum and felt comfortable grinding up a bankroll as was necessary.
Poker was fun and something I was good at, but there was a question that I couldn't get out of my head ever since I started playing:
Why do some players win and other don't in the long run?
It was not luck and pretty quickly I realized it was not intelligence. Don't get me wrong - both luck and intelligence are necessary, but they aren't the final answer. This is a question that drove me much more than the money involved.
To try to answer this question, I repeatedly moved down to the lowest limits and tried to claw my way back up. I reflected on how differently the limits play and what I felt was necessary to succeed in going from 10NL to 200NL and then being able to play there at a high level. Writing about the ideas I had helped me organize my thoughts, but it led to more questions than answers.
There are some ideas which I believe to be critical to understand which are hard to articulate. Once you start exploring them, you realize their complexity. For example: "When should you c-bet?"
I also coached a lot of different players in that period - always looking for why they were not reaching their goals. This led me to focus on the mental and emotional parts of learning. A common thread among most of my students was a constant feeling of anxiety and paranoia when they played. It's almost like as soon as they sat down to play there was a metaphorical hurricane of emotion in their mind. I imagined it to be something like this: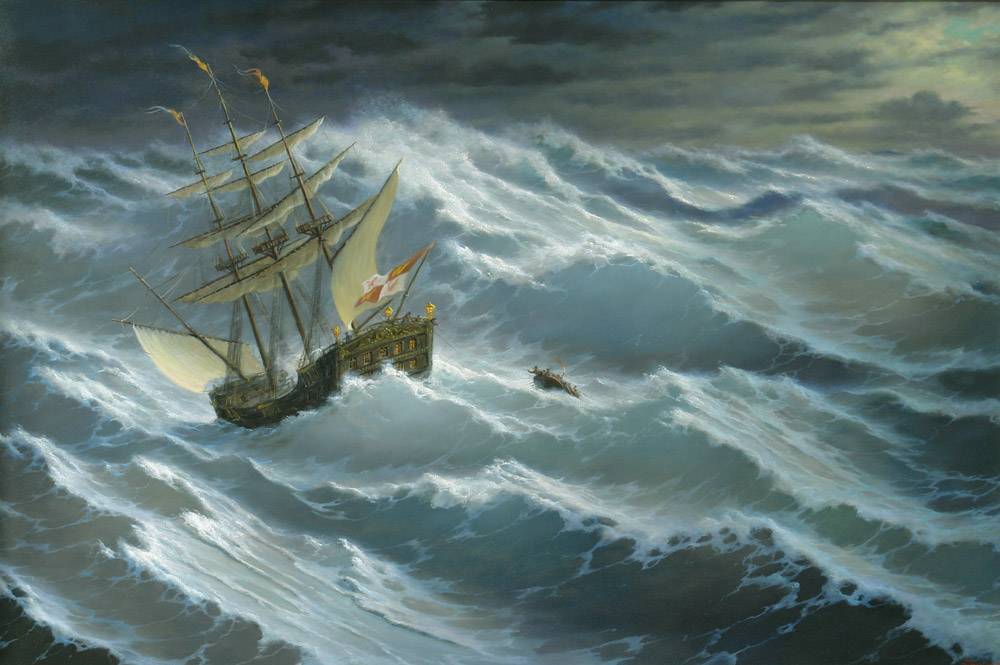 The ideal of course would be more like this:
In some ways, Black Friday was a relief. Before it, I felt constant pressure to play all the time. I felt that when I wasn't playing, I was losing money. Of course there were plenty of times where I played quite a bit
AND
lost money. I was very stressful. After Black Friday, that stress of always needing to play was gone - I simply was no longer able to do it. It was nice for the first month or two to have a forced break, but then the full reality started sinking in and now it's bad.
Not being able to play allowed me to really focus on my writing and start spending more time with coaching. Coaching is another thing I thought about quite a bit. I believe that most micro stakes players need to do lots of individual study before they even begin thinking about getting a coach. That's not to say that a typical 5NL player cannot benefit from hiring an expert coach (of course they can), but most of the time the price of the coach outweights the value of the experience from the session. That's a whole other topic though.
It seems like you guys at PokerStrategy have a good system in place that supports beginning players though - with the hands being reviewed by pros and lots of material (articles and videos) for beginners to explore. Having such resources in one place is critical for growth.
So why am I writing this blog? I want my writing to serve as a reflection tool and get feedback on the fundamental question I highlighted above: Why do some players win and other don't? What can you do to be in the first camp and not the second? There is no quick and easy answer. The quick and easy answers ("Play tight, aggressive, and don't tilt!") are incomplete although they often have enough truth behind them to sound good.
Well - this first blog post went a little long, but hopefully you got a sense of both me as a person and what I'm hoping to do here