Hi
Again
I am leaving my older thread to be and maybe keep updating it every once in a while.
But now am just going to annoy everyone in here by starting a blog about playing the games everyone says no one should ever play. And that is obv micro HU$
Yeayeayea the rake..meh..well I have it covered with my RB deal. Actually on BE stretches I am gaining money every hand I play so its all good. As long as I dont plummet too often I should be moving up quite nicely.
I will be using "mainly" a 50BI rule through the smallest stakes starting from HU4LULZ. At $500 will be taking shots at HU10 for 10 BI then on $1K HU20 and then enter HU50 at $2.5K After that 100BI but that is far far far far far far far away
I think HU is the sexiest game possible (HUPLO is too horny so I'll stay away from that..). I like HUSNG but they are meh in iPoker and PKR which I will be using as the main platforms untill I hit HU50 Then I will have to think things over again.
On the side I will be playing SH games but wont be reportng much on them as I just keep those to pacth up the BR incase shit hits the fan in HU
So my roll is around treefiddy for this thing. An first target is get it up to $500
I nkow haters are gonna hate but I dont care. Playing studying the correct format is the shits so I'll rakelike a mofo and make iPoker rich while I am attit
Maybe I will throw some HUSNGs in here and there but 90%gameswill be HU$
So pkr account gathers me SPs and ipoker is the main grind accountilli reach HU10
I started this thread some time ago in finnish community and will post graphs from till i started it there
main goal there was not to bust out before reaching page 2 and thats gonna happen soon so had the balls to open up in here. main gol posted above but the whole idea is to proove that the games nd rake are beatable with proper setuos on accounts.
Here are the ipoker resukts so far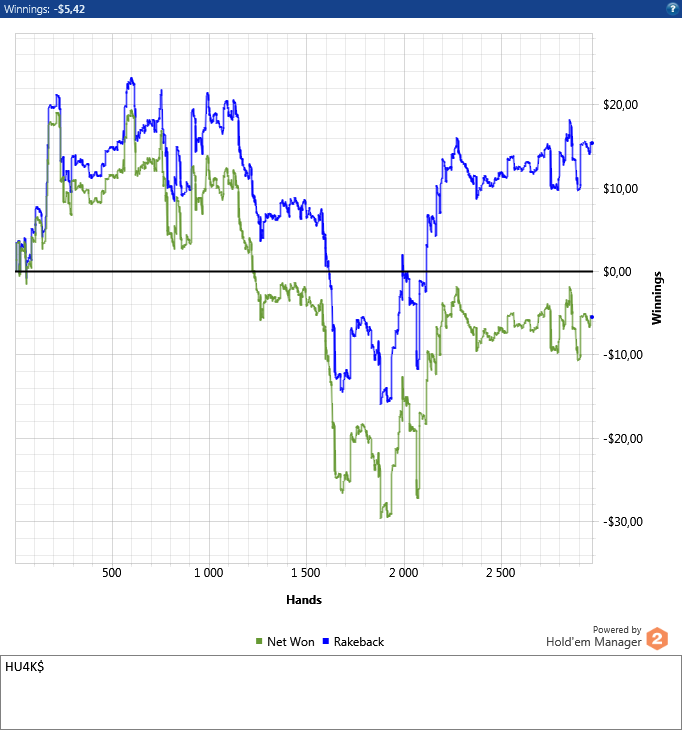 small DS due playing too many tables makin silly mooves and not adjusting properly..and horrible run there too running wellbelow ev..now runninghot again
May results till now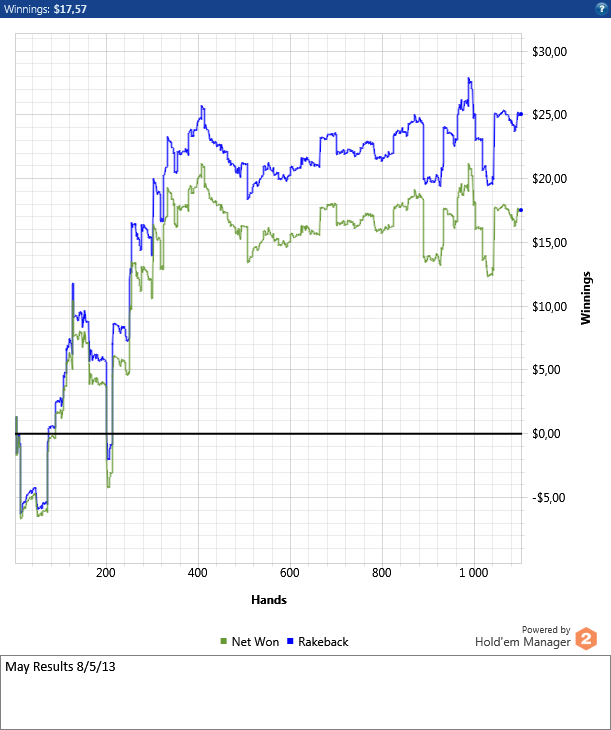 700 hands be due "regs" sitting into my tables. I try to talk them out. So far the have been raped by rake whil i keep building my rb
First few sessions against fishes and the are such ezmoney..must bumhunt moar
Wil be heavily using the hh postings and maybe get some help on the game here too from the ig number of HU crushers here in english forum too.
GG GL all!
P.S.
Then again if i bust out this roll to the rake and swings so be it after all the initial depo i made in january was 50€ to mgaming. And I have cashed out some winnings already and had tons of fun getting back to poker. My ultimate 2 dreams would be plaaying big HU games and some MTTs in the future