0

This post has been edited 1 time(s), it was last edited by itsallrange: 21.11.2013

18:17

.
ITSALLRANGE
REPENT MY SINS ITS NOT ABOUT THE MONEY, MONEY, MONEY
My Wicked Past
My name is James Lennon, some of you may remember me and I doubt they are very good memories. I used to have a blog here where I posted about playing poker for a living.
Things were going ok but not great when by bankroll took hit after hit and good friend at the time Lessthanthree along with others decided to help me out and stake me. So I set about grinding and it all went wrong. I was losing constantly.
There were huge pressures on me at the time, I had £0.00 in the bank, no food in the house and bills starting to pile up. My house mates were feeding me but I was heavily depressed. In the end I couldn't take anymore and just wanted to disappear! Which in the end is what I did, the backers money was pretty much 0 and I thought I was going to have a break down or something. I called my brother and pleaded with him to give me a job, which he did.
The problems didn't end there though, I had people hounding me for money left right and centre. Some of who were the backers and rightly so! I was in such a mess I didn't know what to do and I just cut all communication with everyone. I am deeply ashamed for doing that and it has played on my mind to this day. The money involved was not huge sums but it's not about the money, money, money (ahhhh he said the title!) it is just not right to do what I did no matter what kind of problems I was having.
Much time has passed and things are very different now. My life is starting to come together and be more well-rounded but my past still haunts me. I paid back <3 and we had a good chat about it and I think all is forgiven. I am sure I will have wronged more people in the past and if I did please pop me a PM and I will do everything I can to fix it. I feel like a different more humble person… probably getting old! (33) And I want to right my wrongs of the past.
Poker, Past and Present
I used to play 45 man SNG's back in the day and at the time I thought I was a good reg. But looking back I now think I was an average player with this stupid ability to play 30-40 tables for 4 hours straight twice a day. I used to put in 300+ games every day 6-7 days a week. Did it do me any good? If you read above you know it didn't. I never really tried to improve my game except fixing pushing ranges, I didn't improve all that much imo.
Poker for me nowadays is quite different <3 said in our chat the 18 mans were pretty soft so I played about 400 of them with a pretty hefty ROI. But with my lifestyle with work and my beautiful girlfriend taking up 90% of my time I just didn't have the time to fit in sessions. This led me on to really think about if I should walk away from playing poker or to start again. The very presence of this blog tells you my conclusion.
So SNG's and mtt's are not really an option. That leaves cash games, my decision to change came along with a realisation that I have to start again and learn from the beginning as I have never made a profit in cash games over any length of time before. I quite like the thought of learning something new from the very beginning and working my way up (hopefully)
First up I wrote a full on poker plan of what I want to achieve and how I will go about it. I printed it out and read it most days, I need this plan to keep my eye on the ball and not start thinking FML I am playing NL2. I started work on the NL for beginners here on pokerstrategy and I am learning a ton of things. Working through a set course is right up my street, I am a lover of structured learning and not here is all the info go work it out. So $50 went into my account and after getting the basics down I started playing a few hands. I got beginners luck as I am completely crushing NL2 6 max for EV24bb/100 sadly only over a mere 3,000 hands but it's a start. If I manage to be anywhere around 10bb/100 I will be very happy considering I have never beaten a cash game.
Obviously this wouldn't be a blog without a graph so here it is...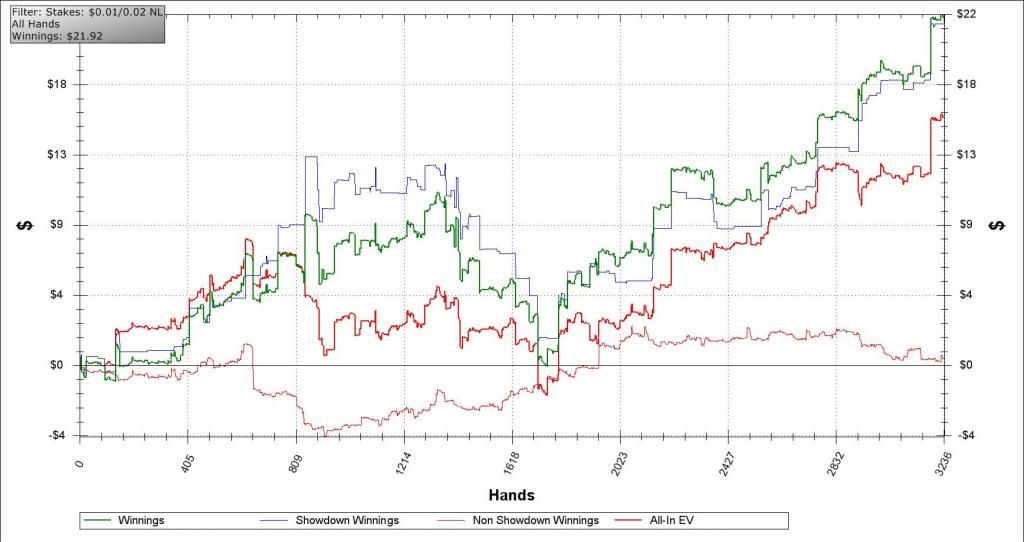 From what I can gather from this graph after 800 or so hands I started to play too aggro and bluffing too many pots. I get that from my red line going way up and my showdown winnings heading south. Well at hand 2,000 and on I seem to have improved my play. I have been posting hands and continuing the course so I can only assume I am getting better, at least enough to beat NL2 ha ha!
If you want to hate on me or tell me what you think of me please do so in this blog. I am quite an easy going bloke these days but I am serious about righting my wrongs and improving my poker skills.
TLDR;
I wasted other peoples money and didn't pay it back until recently.
Trying to repent my sins and become a better person
Starting from the very beginning with poker