+5

This post has been edited 1 time(s), it was last edited by Swish29: 18.02.2015

21:46

.
Hi everyone!
I guess the last time I was blogging was in 2010, a bunch of things happened and I decided to stop blogging, mainly because I valued a lot the opinion of the readers and I wanted to prove something to them instead of proving things to me. It happened that after a very good month I went back to the tables being all like 'I'll show them that it wasn't just a good run', which is counterproductive.
When I'll be 30 in 2020 I'll probably look at the 25 y/o me from 2015 and say that I'm much wiser now, at least I believe that I'm wiser than the 19-20 me, and I feel that I won't make the same mistakes. I'll use a blog to develop my poker skills in many ways instead of seeking for attention. As I read a countless amount of time in Barry's articles, there is a correlation between people that participate on the forums/blog and success at the tables, and it's a big reason why I want to blog and be active on forums again.
This is my lifetime graph, many hands at the micros are missing. (Something like a few hundred thousands)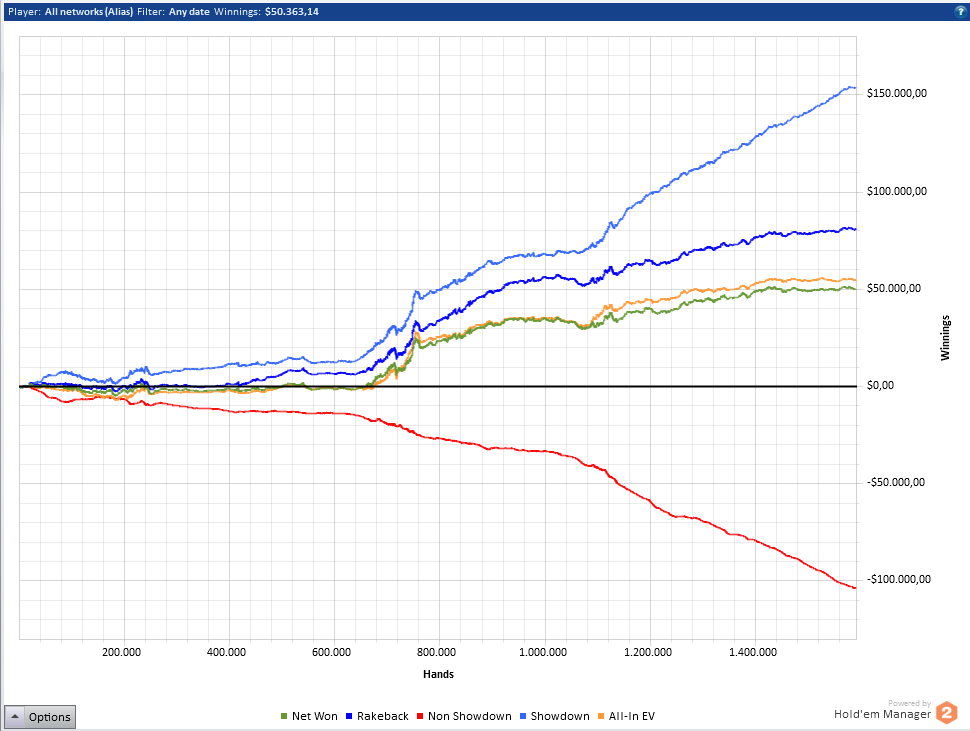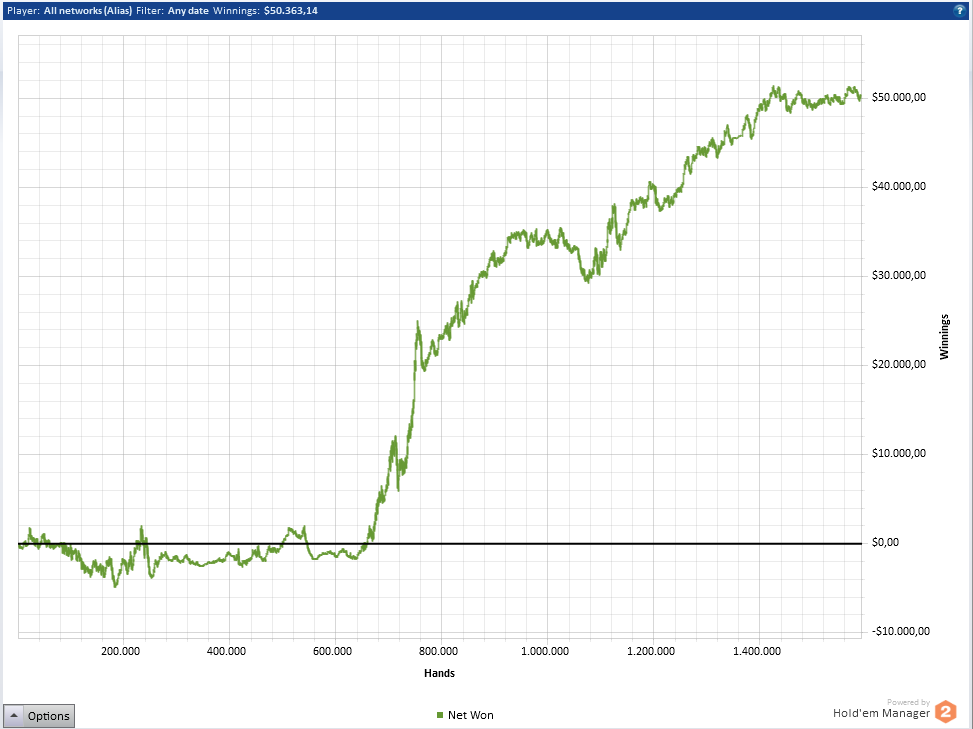 I would say that around the 600kth hand what helped me was to get mental coaching. Before that I was decent but I was constantly on tilt, ruining every possible profits, and then after Erik Stenqvist's help I managed to climb up the stakes. I decided to turn pro and as a consequence moved down to reduce as much as possible my risk of ruin. So I moved down to NL100 2 years ago, despite the great months I just had.
During 2013, I ran bad at poker and at life, I was winning less and less, I stopped working on my game because I thought it wasn't necessary given that I was comfortable playing 2/4-5/10 a few months before. I was overconfident and thought that the donks at NL100 don't require me to work on my game. As you can see my results became worse to the point that I'm close to break-even without rakeback. I would say that I'm as good as 2013, which was nice in 2013 but a disaster in 2015. My mental game is a lot less solid than it used to be as well. I often blame other things/players than me for being stuck at NL100, but now I'm really tired of it. After 2 years I'm certainly responsible for playing NL100, I believe these are reasons (among others I may ignore) why:
-Not ahead of the curve
-Volume problems
-Tilt/hatred towards poker
-Not exercising
-Smoking
-Eating food I know will lower my energy and hurt my performances at the tables
-Spent too much money (yeah, one way to become rich is to keep your money)
So I stopped smoking last week-end. It really affected me and gave me a constant headache. 5 years ago I could smoke 3 packets per day during the week-end and I was kind of ok with it as far as I remember, but nowadays it's as if my body fully rejects the cigarettes. Well, at least it led me to stop. I have no desire to smoke anymore and consider myself a non-smoker. As for food and money spent, I'm on my way to be fine with that as well. I noticed that products with gluten or processed food are bad for me, yet I keep on eating BS, I need to change my habits. I'm also spending less money than a few months ago, I go less and less for unnecessary stuff like going out for food. Volume and exercising are not the worst, I went to the gym today and I have a membership, I will use it a few times per week, after not exercising for ages. I'm convinced that exercising is amazing for poker players yet I've always been too lazy to do it for more than a week. As for volume, I played less than 500 hours in 2013 and over 800 in 2014, so I went from averaging less than 10 hours a week to over 15, it's still bad but overall there is a 60%+ increase, let's say that it's on the way to be good.
As for behind ahead of the curve and tilt problems, that's pretty bad. I hope that opening a blog will help me work on my game, at least it will give me some guidelines. I believe that working on my game and applying the theory to the tables will get me to like the game again, at least it should help me move up, and the higher I play, the more I feel in the zone.
Tomorrow I will continue to work on the red line series w34z3l created and post my homework here. That's the main focus of the next few weeks. I know that a good red-line doesn't mean a good win-rate, though given how low my win-rate is and how much I'm losing without showdown it's certainly worth investigating.
(English is my second language so feel free to correct anything that is wrong or sounds weird
)