Burning my boat, and taking the island!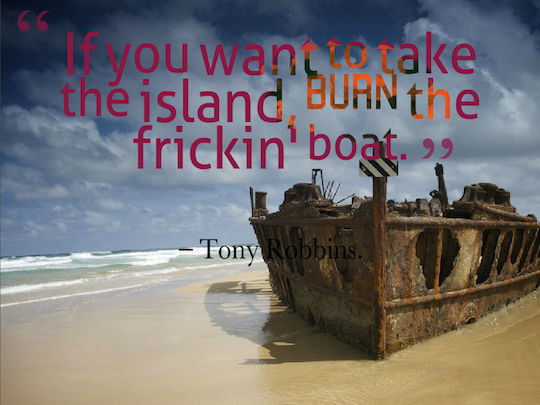 This summarizes pretty much what this is all about. I have been writing on this first blog post for a month now and just postponed the moment of release because I knew that, if I will release it , I will have no way back, so I was scared of committing to actions.
But no more, today is Monday, June 1st, a perfect day to start a new "anything", I have the perfect excuse now. Perfect in so many ways, exactly 3 years ago I was starting my very first poker blog and I was learning to play poker the right way without having any results before, and I did it pretty good in a very short period of time, following some good and disciplined routines. So now I am putting my big boy pants, and put together what I have learned until now and I will make this blog a masterpiece of owning poker, health, happiness and life in general.
Now I have no way back and no excuses, I have burned the boat(i.e finally making this post), I will just have to keep track of everything right here otherwise I will look like a parrot.
A short overview of my poker career:
Started playing FR NL2 on 888 in June 2012, and with some hard work and dedication I managed in 7 months to succesfully play NL100 and in 8 months I managed to go from 50$ to 10k$. Short time after that I was also playing NL200(small volume there though). This is my blog in the romanian comunity with my evolution:
http://ro.pokerstrategy.com/forum/thread.php?threadid=24083
(in romanian, if someone interested)
Anyways, I reached this peak and after that I kind of got stucked and didn't make the effort to go for the next level, and continued for the past year to play 100nl and 200nl, with a decent 4.7bb/100(wich is not so gread considering that I was playing on 888 and stars.fr where games are softer)
Here is my graph until the biginning of 2015:
Now
So here I am more than one year later making my comeback to maintain healthy, poker and life, routines.
I did some big bankroll mistakes last year, I've spent more money than I afforded last summer: made some investments(including a staking business that I invested some money and a loooot of time that did not payed off as expected evetually ) and spent a lot of money on vacations and stuff , and combined with a constant downswig, and verry low volume I found myself barely being able to play 100NL, so , last autum I got down to NL50 and also shifted to SH games , and it was going decent until this spring when I had a decent BR and I decided to finally put my big boy pants and leave the country to go to Thailand, which was something I was thinking for more than a year. But life had a surprise for me, literally the next day after I bought the airplane ticket, I got into a downswing that kept for 1 and a half months during which I lost 40BIs. And then the time to go to Asia came. Fortunately I still had a good BR + I had as a backup the BR we had for staking players(it was me + BogdanPS and another partner ) so those money helped alot.
So off I was to Asia. Decided to go first to Malaysia to have my visa for Thailand and I ended up staying almost one month there, maybe I will share some of my stories I lived there , but later in the blog. Of course, poker volume was close to 0 when I was in Malaysia, and the little I played the bigger the loss I had
) but I really had some great times there. Now I have more then a month since I have been here in Bangkok and managed to play a little volume after I found an apartment to rent and settle down.
Poker Plans
In the last 1-2 months I tested out switching to HU, did some study and gradually starting to play some nl25/nl50 hands. So from now on I will be playing full time HU NL50 on Pokerstars, Fulltilt and some other small european network. I will start with these and will see how it goes.
Later this month I hope I can get my money together and start coaching with one of the most successful HU players around here, Pavel, or Ilidek. Now I know that if you want to be successful in any area, either if you want to be a great dancer or have great relationships with people or be extremely fit or run 100km or own your own business or win 1millon dollars at poker, whatever you want, the easiest way is to find someone who already did that and replicate their actions. So knowing this, it comes natural that I searched to work with Pavel to help me get there faster(at least on my poker related goals)
Poker goals:
shot NL100 until 1st of August 2015
be a reg at NL100 until 1st of September 2015
be a reg at NL200 until 1st of November 2015
shot NL400 until 1st of January 2016
Life, wealth and fitness goals:
have a six pack until the end of august
run a marathon until the end of 2015
finish an iron man competition until the end of 2016
.....this list to be updated in the next 2 weeks tops along with the plan for them
The bulletproof plan:
Over time I tried many things and I have seen many things working like charm and other failing majestically both on my personal experiences and following others experiences and results. Based on that I've developed what I called a "bulletproof plan" to keep me on track and safe from distractions and from falling into those many easy traps that prevents success.
Every 2 weeks:

80/20 analysis every 2 weeks (I will tell you more about this later)
Every Week:

weekly "live play video" (play a session and record it)

weekly review of previous week "live play video" (record again with coments)

database review for last week hands

weekly productivity report analysis
Every day:

session review(previous session or previous day)
-marked hands
-big loosing hands
-every hand at tables were I lost the most

do Equilab/Flopzila exercises

set daily poker goals

watch one poker video

wormup before session
-prepare you desktop+water + eat if you are hungry
-read evaluated hands and take notes
-read skill leak doc
-read working on doc
-write goals for sessions +priorities

cooldown after session
Now finally I am done with the blog, I feel good now and I am confident that I will have succes, I am a man of challanges, I remeber that in 2013 I had a challange to run every day for one year with no break, no matter what. And I did it. It didn't mattered that it was Christmas or Easter, or too hot or to much snow or rain, I was there every day for 365 days. I was insane and I miss having a challange as big as that one, and this is the one my friends, in poker in life, in fitness and wealth I will have the money I never had, the body I never felt, the relationships I never experienced, and the life that I deserve.