Hi! First of all, sorry for my english!
I have doubts about a video I saw recently on this subject.
The video in question is the following:
http://es.pokerstrategy.com/video/37920/
The question I'm going to ask was written in the comments, but no one answered me, probably because of my shitty english hahaha
The question is: This guy suggests that when it comes to defending the blind to an OR, depending on the villain profile, there are better hands to call preflop than others when we are in the bottom of our range.
He puts two examples of villains. Here I put the video capture: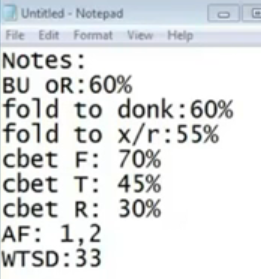 This villain is not a multi berreller and not very aggressive either, and tends to go to showdown, which will able to realize our equity more often.
Between a hand like 22 or T9o he prefers T9o, because we will hit middle pairs, gutshots, OESD with which we will be able to see many cheap rivers.
On the other hand, with 22, the times we hit our set, we almost never get 3 streets of value becuase he folds to a raise cbet a lot, and he is going to check behind most of the times as well.
So far, so good. Let's see the second example which is what brings me doubts: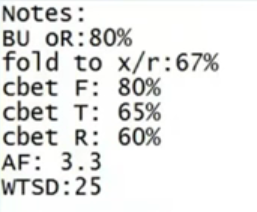 Here the villain is more agro and is going to be a lot harder to face multiple barrels with marginal showdown value hands, so it makes more sense to go for a set with 22 and get lots of value when we hit.
He is a guy who folds a lot to a raise cbet too, so we want to hold hands with draw potential so we can check raise lots of boards, and here he mentioned that hands like T9o of the previous example no longer works as well as it only hits gutshots or OESD, so he prefer hands like 96s.
THIS is the reason for my question: I see that there isn't so much difference in a bottom range between T9o and 96s against this type of opponent. Ok...T9o ceases to interest us to hit middle pairs, since we are not going to call so many streets with them, but it has a similar draw potential than 96s!
FOR ME, the hands that start to lose value are broadways with bad kickers, because we can only expect to hit top pair with horrible kickers and we will be in the difficult position of having to call down against multiple barrels. We cannot raise cbets as a semibluff becuase we don't have any and we are dead against his calling range.
Remember that we are always talking about the worst of our range ... so the issue goes to hands like 96s, T9o or 22.
I think it's clear that in the first case 22 doesn't work, but T9o does. It also seems clear that 22 works much better in Example 2, but it does not seem so clear that T9o stops working and 96s does it instead.
What do you think???