+2

This post has been edited 3 time(s), it was last edited by Spazzaments: 16.03.2016

14:56

.
Hi everyone,
So it actually took a while for me to create a topic for my poker blog. But here it is. Alive and well. Let me first start off with a proper introduction.
I'm a 25 year old poker player and student from The Netherlands. Poker was just fun for me, so i've never played it as a source of income. I hope that's going to change soon. In general i've been dabbling around with school and poker. Not taking anything seriously, to the point that i just quit everything that didn't work out for me. That is going to change. As a person i really want to grow and show people that i actually can accomplish anything i want. I've always been a pretty shy and insecure person in general, and i loved doing things alone. I thought i didn't need anyone to solve my own problems. But guess what? I do need people to help me sometimes. I had a pretty big wakeup call when two of my friends committed suicide by jumping in front of a train. A lot of thoughts were going through my head, for example: Why did he do it? And why didn't he look for help? They both were suffering from depression, although that wasn't visible when you talked to them.
I think not saying anything is the worst thing you can do. Sometimes you have to take responsibility for your actions and just ask for help. It can happen that you feel ashamed, but what doesn't kill you makes you stronger. I'm adopted and i have family in another country. I always felt like i didn't belong here in the first place. And that played a big part in becoming the person who i am now. I rather travel then stay here. I'm somewhat of a loner, but a lot of people say that i make friends easily and that people also like me a lot for it. At school i always was good at talking in front of big crowds and i could make them laugh easily. But thanks to my insecurity i just thought that i would fail at basically everything i wanted in life.
I live with my girlfriend, who i love very much, but i need to work on my mentality as a person. I just don't want to end up depressed and alone. To give you an example how insecure i really am: when i talk to a person i look at everything he does. Facial ticks, eye movement, what he might think of me etc. I just analyze everyone and think they don't like me or think i'm weird. When drinking with my colleague's i think i feel left out, although they try to talk to me and have a laugh. It's bad.
So! Back to the pokers! My main limit is 10NL, with the occassional shot of 16NL Zoom on Pokerstars. The pool is just really bad in general, with a few decent regs here and there. A lot of players don't really know how to play in 3-bet pots or 3-bet calling ranges. 10NL zoom seems a bit tougher, but not impossible. I would like to make poker my main source of income someday, but i have plenty of time left to improve. Why do i want to do this? Because the life attracts me. Being your own boss, really live a life you may like and not having a 9 - 5 job every day. I treat poker like it's my own business, and really focus on the theoretical side of it. Without learning, you will not improve.
GOALS:
1. Quit smoking (really, it's bad)
2. Seek proper counseling to help deal with issues i might have
3. Try to get a degree first and leave poker on 3th place for now
4. Study! Time away from the tables is the best thing you can do early in a poker career
5. Be happy. People like you for who you are. Don't ever try to change that
6. Exercise on a regular basis. Wake up early, go for a run and start the day fresh
I don't have real monetary goals in poker as of yet. I just want to learn the best i can.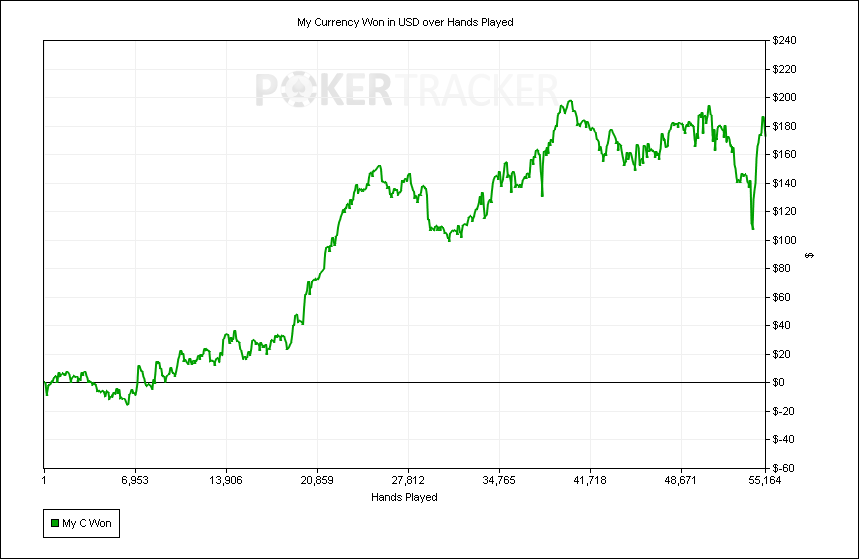 This is my Zoom poker graph from NL5 to NL16. I hope to get to 200k hands first and evaluate when i'm done. I might hire a poker coach, but first i want to study some poker literature. I hope you guys would like to join my in my quest to becoming the person i really want to be. Feel free to reply, add me on skype or just follow the thread :-)
- Spaz