+7

This post has been edited 1 time(s), it was last edited by TJtheTJ: 16.04.2017

21:53

.
And that's me, myself and I! Nothing else!
For those who don't know me (which I'll assume after 2 years is most of you), quick introduction. Also, welcome to perhaps one of the longest posts in PokerStrategy history
About me
I'm Tino (friends call me TJ which has a pretty nice ring to it
), 23 year old guy from the Netherlands. I used to be part of the moderator team here a couple years ago. I'm an avid volleyball player and business student, currently working as an account manager.
I used to play up to NL25 Zoom cash games with the occasional shot at NL50. Back in the day I also managed to get a couple deep runs in big tournaments on Stars. Obviously all the money I made at the time has now been spent, mostly on overly expensive things I didn't need ffs
In short
I know myself. As such, I know I tend to ramble on quite a bit once I get going. So here's in short what you will and won't find in this blog. After this comes a huge wall of text, I'll let you decide if you want to read that or not
What you will find in this blog
Hard work

Making money (eventually )

Positivity

At least weekly updates

GIFs and memes

What you won't find
Bad beat sob stories

Complaining about downswings

Basically any sort of negativity!

Let's aim for a positive vibe guys
The plan
So I haven't played poker in a long time, mostly because I just didn't have the time for it. One might suggest I still don't have time for it, as I work 32 hours a week, have volleyball practice/matches 3 times a week and have uni that I need to spend a truckload of time on. And let's not forget that thing that's called a social life that I'd like to have. However, I just love this little game too much!
As such, I'm back! And I have a plan.
Like described above, I have quite a lot on my plate. Since the start of this year though, I started to implement some serious time management. Sticking to those schedules made me realize that I actually have plenty of time to balance school, work, volleyball and my social life. In fact, I figured out I have quite a bit of time leftover! So I decided this would be the perfect time to return to the tables!
Very strict time management has worked wonders for me. I've also made a number of other changes that have allowed me to focus better, not get distracted, etc. Decisions like this have made my productivity skyrocket, which in return has made me a happier person than I've been in a long time. Not that I've ever been unhappy or depressed, in fact I've had a fantastic life so far, just wasn't living my life 'optimally' I suppose, if that make sense
Now that I'm back playing poker, I plan on applying the same mindset. I want to really get good at this again. That means I need to put a lot of time and effort into not just playing, but studying as well. It means I will take a very systematic approach to re-learning the game. It also means I need to pretty much forget what I still know from a few years ago and start from scratch. I want to do this the right way. If that requires me taking a step or two back from where I used to be, then so be it.
No more 4-bet bluffing because villain 'folds too much to 4-bets' (over a 100 hand sample, damn you past me
). Forget about polarized/linear/merged ranges. Forget about GTO. No more overly aggressive plays because I have 'backdoor potential'. Those sort of things will come later. For now, I'm just going to keep it simple. I want to play fundamentally solid poker to start with and build from there. Pretty much, I'm following the words once spoken by a very wise man:
I'm starting from scratch, which means I'm starting at NL2. I'll be playing regular tables. Of course this is NL2 so there's really no good players around, so table selection isn't
as
important. But I'll still be looking for the best (read: fishiest) tables as much as possible, if only to prepare for the higher limits where table selection will be more important. For now I'm going to start by playing 2-4 tables.
To get back to the title, I really want this project to become a success. As you can read below, my first goal is to reach a profit/bankroll of €2500. I have not decided in which time frame I want to achieve that, or what I want to do after I've achieved it. For now I'm focusing on this first goal and there's only one way for me to fail it... and that's if I let myself down! I control what I can or cannot do. I've already gotten myself in a great mindset the past few months productivity-wise, so I'm convinced I will be able to do this!
Past me probably would have given up on this within a few weeks. Present me is going to accept nothing other than success
Goals
Quick overview of my goals in the long term in both poker and life. Of course I set myself daily and weekly goals as well. Maybe I'll start listing those in the future as well but for now, I'll leave you with these.
Goals
Increase the BR from €50 to €2500

Study 30 minutes before every session I play

Stick to my schedules and don't get distracted

Life goals
Stick to my schedules and don't get distracted (yes, this applies here too )

Get one division higher in the beach volleyball competition than last year

Finish uni (very long term goal, will still take at least 2 years)

Conclusion and GIFs
So that's it. Long post is long, I know. Therefore, please have this totally unrelated and old but still gold GIF as compensation: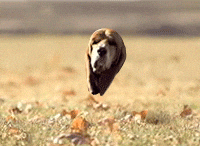 And another one for good measure:
If you read through all of this, you're amazing! If you didn't, I understand because this post is long af, but you're still amazing! Remember, nothing but positivity in here
tl;dr version with a good ol' cliché thrown in: I'm back with a brand new track!
Tino