Eclipse 2017
We saw the eclipse from the intersection of two roads
right in the middle of this map
.
There is even a street view if you wish.
It looked like this on the ground: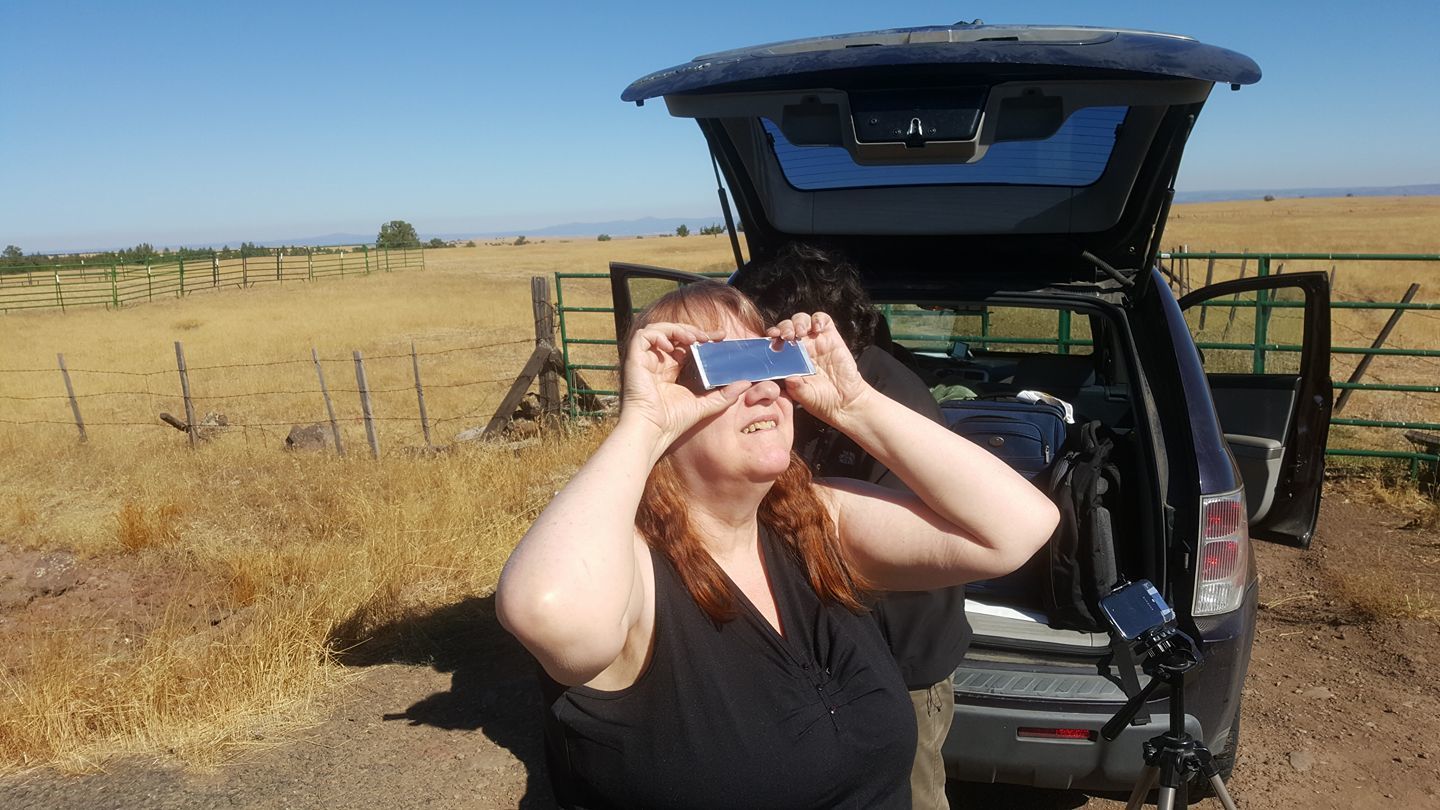 We did not plan this trip very well. We tried, but hotels in the area were gouging. There was a hotel available in Nampa for 887.00 per night. Nothing else anywhere. So we just decided to wing it.
I selected a backroad off of US 395, but could not actually pick out a spot until we got there.
We decided to just drive to some place close to where we wanted to be, sleep in the car, then get in position early next day.
We revised that when we heard that traffic was already snarled in some areas days ahead (we saw none of this though). However, just in case, I planned our route using Google with "avoid highways" enabled, and we had a totally delightful (but very long) drive along the
backroads of Washington and Oregon
.
When we got to within the totality zone, we started looking for a place to pull off where we wouldn't have too many people around us -- and found just the spot you see above. When we woke up, we realized that there would be nothing better so we stayed put.
The eclipse was simply stunning. Nothing I knew beforehand prepared me for what I saw. And what I felt can't be properly explained. When I close my eyes (or not) I can still see it.
The shadows on the ground and in the sky were spectacular as well. You could see the sky darken in a wide cone on the western horizon, then as totally grey close, the horizon lightened again, while the sky overhead was quite dark.
It got cold, too.
We hung around until the eclipse was totally done. Some people had left as soon as totality was over.
Our plan then was to drive to the Oregon coast, then up it to Astoria and spend the night.
Uh UH. Emphasis on the UH. Due to a misread of the map and GPS, we took a wrong turn at Albuquerque, and got to within 40 km of Prineville Or when we saw an electric sign saying "Traffic stopped ahead". Oh boy. We were low on gas by this point, so getting a bit edgy. We CRAWLED the last 25 km into Prineville, then continued on to Redman OR. Six hours of driving got us about 300 km total.
Next day pretty much no problem until we got to within 75 km of Tacoma on Interstate 5 at about 3:00 pm. We were near rush hour, and I had visions of spending the next 4 hours in Seattle-Tacoma rush hour traffic. We got out the WA state map, and plotted a backroads route around Tacoma. So we spent 3 hours toodling around the boonies and then up I-405 to Everett and home.
I used the sky mapping software to determine which stars were visible. The planet Venus was the bright one, and the dim one was Sirius. Another bright star -- Regulus -- wasn't noticed, possibly because it was so close to the sun. I posted the animation of the eclipse below, but it is a total snore compared to the real thing.
I also tried to do a time-lapse with my phone -- it worked, but NASA did a better job
I had put some solar filter material over the phone's lens, so the totality did not show at all.
Next time (2024) I'll know better...
VS