+3

This post has been edited 4 time(s), it was last edited by SiKWiThIt: 07.11.2018

00:23

.
DREAM BIGGER PROJECT:
Hello everyone my name is Jordan, and welcome to my personal blog.
I am starting this blog partly as a means to track my progress, but also hoping to help motivate others by showing what can be done through a combination of
hard work
and
determination
.
This blog however, will not be restricted to purely Poker related content and I plan to also include general experiences in my life as well as my thoughts and other personal/health related goals that I am progressing towards.
A little about myself
I was born in France and my family is French (hence the nickname LeFrenchstick)
We moved over to the UK when I was around 6 years of age and it is safe to say that English has become my primary language and my French sucks. Although I can still understand it fluently, I now sound like a typical Brit when trying to speak it, or so my family tells me.
My Last few years 2016-2018
In July 2016 I graduated with a Master's degree in
Structural Engineering
.
Travelling
had always been a big goal of mine, so during my studies I saved some money and after graduation, I flew one way to
Japan
with the goal of travelling around Asia until my savings ran out. This sadly ended too soon (around 2.5 months), and upon returning to England, I became even more motivated to go back out there as I enjoyed every moment of my trip.
Although I really enjoyed Structural Engineering, worked hard and finished the course with the highest grade, I was always different to the majority of my classmates. Where I always knew that upon graduating, instantly entering the proverbial
rat race
and working my ass off for a big company from my mid-20s to the ripe old retirement age of 65+ was not at the top of my priority list. Not yet anyway while I still have minimal responsibilities and can still be a bit selfish for a few more years.
So upon returning from my 1st travels November 2017 , I set my goals on working for about half a year and saving a set amount of money before returning abroad. This time with the plan on eventually generating my own income to sustain a living/travelling abroad lifestyle for a few years. I was a little optimistic with being ready In 6 months and it actually took 12 months to reach a savings amount that I was content with. This led to a very boring 2017 where I got a 12 month contract within a Bank with
zero
intentions of staying and progressing. My sole focus was just on saving as much money as possible.
Finishing this contract in December 2017 I gladly welcomed the arrival of 2018.
2018 So Far
I made my return to
Asia
at the end of February with first destination
Singapore
. (Cheapest flight from London)
March was spent in
Penang
,
Malaysia
, my partner and I rented a 3Bedcondominium for just the two of us, which somehow worked out cheaper than all the 1 and 2 bedroom options, don't ask.
End of March we flew to
Hong Kong
to visit friends and family, and we spent a few weeks exploring before heading to
Macao
to live it up like "Ballas on a budget" for
one
night. I am very ashamed to say that no Poker was played that night in Macao.
We stayed in the Venetian and that evening I went down to the main floor ready to sit into the lowest limit going which from prior research was NL500. Sadly the Poor people's table was empty and the next limit NL1000 had 3 players on it meaning for a good full ring game I would have had to go NL2000, too big an amount to risk given that the buy in would have come directly from my travel funds! I vow to return to Macao in the future and Crush the city, this is definitely one of my
bigger
long term goals.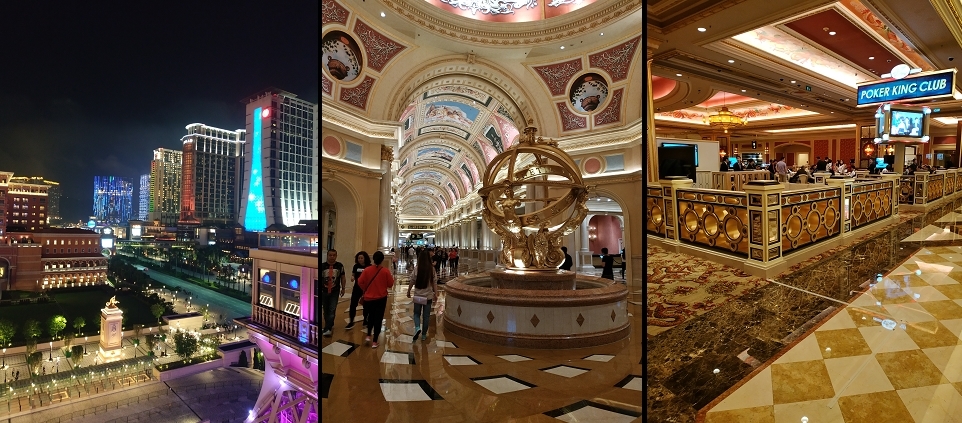 View of the Strip, entrance hallway of the Venetian Macao and the poker cash game tables on the main floor of the Casino
After our "non-baller" baller night we flew to
Thailand
, arriving just in time for their New Year festival "
Songkran
" which really was some experience. If you have not heard of Songkran, it is basically a huge 4 day water fight all across Thailand. Everyone takes to the streets, children, adults, elephants alike with the sole purpose of soaking everyone while getting absolutely soaked yourself! We were in Bangkok for Songkran and it was like nothing I have ever witnessed before. I highly recommend experiencing it to anyone who plans on going to Thailand.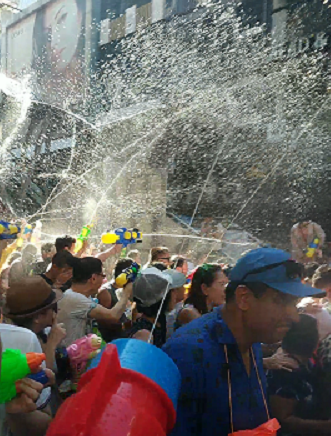 screenshot of the action during Songkran
After Songkran we made our way down to
Phuket
which is where I stayed for a Month and it is also where I began to pick up poker again.
Thanks for reading this far, and feel free to ask any questions, leave comments / feedback on anything and
Good Grinding!
If you want to see more photos of where I am and places I have been to so far, feel free to find and follow me on Instagram
@LeFrenchstick