0

This post has been edited 2 time(s), it was last edited by Dippy19: 23.12.2009

00:05

.
Some of you know me, some don't, but I won't introduce my self, since that isn't the point of this blog. But I will tell why I decided to make it(again) and what's going to be in it.
First a little something about what has been happening and what lead me to do what I'm about to do and what I'll be writing here. Basically I used to play FL up to 5$/10$ with some(very little) 10$/20$. Then at the beginning of the summer I was fed up with it, (most)other FL players will know what I'm talking about.
So I jumped on to SnGs. Started on 16$ and by the end of the summer I was playing up to 114$, but mostly 60$. There's where I hit a brick wall... and an awful downswing that I don't know how I actually managed to overcome. After some searching and examining good regs on various analytical sites I came to the conclusion that none of them are winning and they are all just grinding for rakeback(at least that's the way it is on Stars). But that was exactly why I stopped playing FL
So next stop was NL cash games. We'll I think I'm just not cut out for it so I stopped. Then since I think I have a pretty good knowledge of FL I wanted to give HU a shot. Did excellent there, but like everything, this turned to shit as well. Finished that experience about b/e I think. But something good actually came out of it, I realized that I stress myself over poker way too much and that I should format my money makeing in a way that is the least stressful. So first thought was that I should just grind low limit SnGs around 27$. Did that for the last couple of days and then hit a very obvious downswing, it actually got funny for me in the end
. But it got me thinking again, thinking about how this has no future and that it can actually get really stressful and that it's not actually my best game... so I'm gonna pick up where I left of, playing FL. Well not exactly where I left of, but at the game I left of. I think that after playing different games I have found a more in depth understanding of the game and also new experience, so I hope it goes better that the first time around.
How am I gonna go about it?
First of all, the mantra is NO STRESS
What brings me stress? First of all, losing money when I don't have enough for real life. An important fact is that my life was/maybe still is pretty messed up for the last few months, so I was trying to have as much fun(read:drink, travel, party)as possible plus some other unforeseen expenses took pretty much everything I made during the summer, so all I'm left now is with my BR and some savings. Since I don't want to dig in to my savings, since after this year they are pretty much the only thing I have to show from my poker career, I need some money for the next few months. He he, remembered something funny, I said the same thing at the beginning of summer when I started playing SnGs, since I thought I wouldn't be making money for a while. I ended up cashing out 3kEUR, spent 2k on a 2 week vacation and the other 1k in a month. Thankfully I started making money pretty soon
Anyways, to prevent this stress I'm only leaving 2k$ on Stars and withdrawing the rest. That should be enough for at least 3 months, but it is important that I don't get to thrifty with money again and live a bit more minimalistic(seriously, last few months ware sick
)
The next thing that brings me stress is large money swings themselves, so I'm starting low, since I think I had enough for a while. I'll start on 1$/2$ and move up with 1000BBs.
And the final thing is... I'm really fucking stressed right now. So I'm gonna do something that I haven't done since I was on vacation during the summer, I'll take a long break, more specifically, till the new year.
Final steps:
My last poker act this year is to grind out the FPPs(already done that while writing this, result 35kFPP=860T$, now to make it to real cash).
What to do till new year?
I have a lot of school stuff, but the main plan is to also study poker theory as much as possible before playing again. I especially want to watch the rest of Tommy Angelo's videos. And of course have fun during the holidays
Why and what will this blog be?
Because I'm an attention whore(my exgirlfriends(part of the reason why I've felt like shit last few months) words). Also because I need to stay organized and actually keep to what I'm saying. I'll be posting updates weekly, every week on Sunday. I'll show my overall progress and tell what has been happening.
Progress:
Like I said move up when over 1000BBs, move down when at 1000BBs of the lower limit. Use all rakeback for moving up, since that makes a big part of a FL players win rate at 3/6 and 5/10 and maybe even 10/20. When I'll get to 5/10 I'll also start playing HU and maybe make stricter BRM restrictions for moving up, for stress reduction. I will also reduce the number of tables while moving up. I expect January to be a long 9 table grind.
I think that's all I wanted to write, if I remember something else I'll edit this post. I'll also add my T$ to $ transformation results late tonight. And for the end I'll drop you my lifetime graphs from SH FL games per limit:
1$/2$: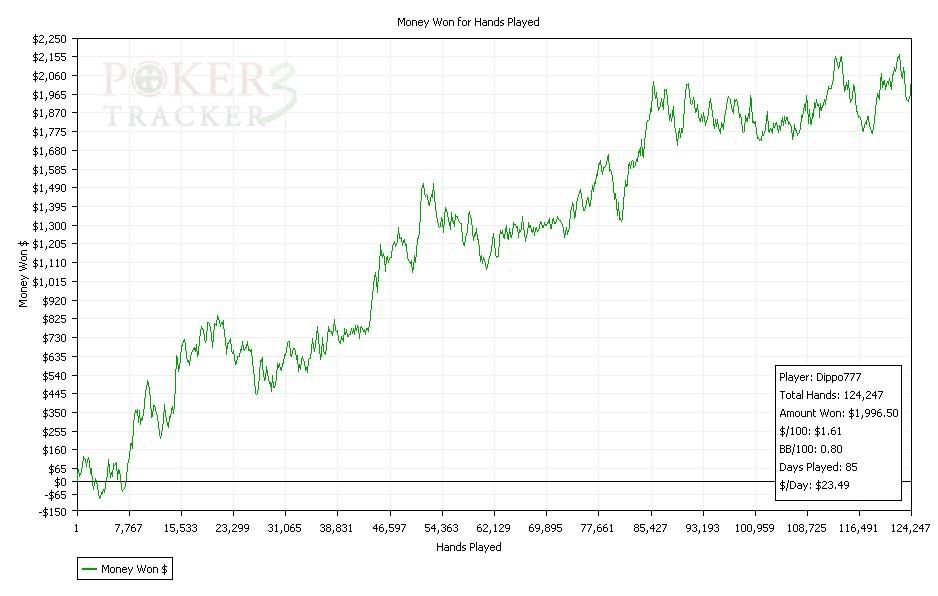 2$/4$:
3$/6$:
5$/10$:
PS: Sorry Primzi, I just saw that I almost copied your title
EDIT: In the end I converted those T$ in to 1593.73$, pretty sweet