Rush Poker was very popular

It took a long time for the other online poker rooms to reap the benefits of the demise of Full Tilt Poker, but the recent explosion of fast moving ring game products is them doing just that.
Rush Poker really did set the online poker world alight when it was first launched in 2010, and presumably because FTP held the patent on the concept, the competitors chose not to join in. With the road now seemingly clear for operators to try their hand at "fast fold" poker, we have already seen PokerStars, Ladbrokes, Ongame, and two "fast fold only products" emerge.
It is completely understandable why everyone would want to jump on the fast fold poker bandwagon; Rush Poker was lots of fun and very popular, it increases the number of hands being played and therefore rake (and deposits), it protects against certain practices that harm depositing players like data mining sites and software, and it encourages people to play in short periods of time that they otherwise would not have chosen to play in.
But what will fast fold poker do to the regular, "slow", cash games found online?
A quick win?
Could mobile poker hold the key?

One of the real benefits for the game that we saw early on with Rush Poker is that fast fold poker can actually help protect recreational players from predatory practices like data mining. Game selection essentially goes out the window with fast fold poker, as the tables are randomised in the same way a tournament is.
Not only does this protect the new players, it also stops the better players from sitting out against each other. In fact, many players are suggesting that fast fold poker would also reignite the high stakes and heads-up tables; which are rife with these problems.
Likewise, fast fold poker limits, but certainly doesn't eliminate, the edge gained with tracking software. Although this means that serious players might consider their edge would be therefore lower in fast fold poker, in the long term the games would benefit, and become much softer, as recreational players would not get slaughtered as soon as they sat down.
Another reason, other than the patent, why operators may have jumped onto fast fold poker now is the rise of mobile poker. 2012 really looks like the year for mobile poker, and PokerStars appear to be leading the way here, releasing Zoom and their mobile client almost alongside each other. Now Zoom is available for mobile, and it seems the two concepts were a marriage made in heaven. One of the real sells of fast fold poker is being able to play in short bursts, and now players can literally play poker wherever they are, whenever they have a free moment, all from their mobile device.
Because PokerStars has already captured the fast fold poker market, it might seem futile for some of the smaller networks to launch a rival product, but I can actually see a benefit. Fast fold poker does seem perfect for networks with low liquidity. It is incredibly off putting as a player when you look at a smaller network and see only a handful of cash tables, all of which are full. With fast fold poker, as long as you have two or three tables worth of players, your experience will not be that different from if you have hundreds of players in the pool. The same can be said, potentially, for the higher stakes and heads-up tables, where numbers are low and sit outs are common.
A slow death?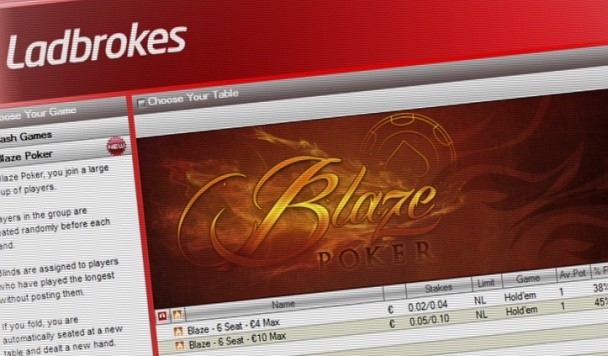 Blaze is the newest fast fold variant
(Image courtesy of PokerFuse.com)

Zoom poker already accounts for about 50% of the cash game traffic on PokerStars (Which is actually a significant percentage of the overall cash game traffic across all poker rooms). With the emergence of other fast fold poker products, does this mean we are poised to see fast fold poker become the norm, and "slow fold" poker die?
This is a daunting proposition for many, as it would essentially change the skill set needed to beat the game. Concepts like metagame, game selection, and table image, would take a back seat in favour of a more standardised, mathematical foundation. The gap between online and live poker would once again seem very wide.
But this has been said before, about online poker in general, many times. Early criticisms of online poker included suggesting players played robotically, and lacked psychological skills like spotting tells and reads. In fact there was a time that the very idea of multi-tabling seemed ludicrous, when now everyone does it.
The bigger question is whether fast fold poker is actually increasing the number of players and deposits at the tables, or simply changing the place where the regulars are playing. The early figures have suggested that the liquidity has not changed greatly since these new fast fold variants have been introduced, but it will be interesting to see what long term impact, if any, fast fold poker on mobile has.
I am inclined to think that fast fold poker may be too much to handle for people playing poker for the very first time, and that it won't encourage brand new players. The fast action may be
too
fast, and new players may find poker confusing as a result, and treat it more like a slot machine than a skill game. To be able to make fast decisions, you need a certain amount of experience, and for this reason standard tables might still be more preferential for first timers.
There is no doubt that fast fold poker is here to stay, and that it will change the landscape of the online game forever more. Whether that is to the detriment, or benefit, of the industry as a whole remains to be seen. Ultimately, I cannot see the standard slow format ever disappearing from our tables, because there will always be a desire for the online game to replicate the live experience to some extent for new and experienced players alike, and it is pretty clear fast fold poker would not lend itself to the live environment.
by Barry Carter