What happens when you host a series of poker tournaments, provide free accommodation for participants, charge no rake, add $400,000 in bonus cash to each event, pay for television time, and plan on hosting a $1 million freeroll for the top 27 players on the league leaderboard?
Well, you go broke.
The parent company of the Epic Poker League (EPL), Federated Sports + Gaming, filed for bankruptcy on Tuesday. According to an article in
VegasInc
, the company had approximately $15,000 cash on hand at the time of the filing. Additionally, they were owed approximately $115,000 and owed 2 creditors (Pinnacle Entertainment Inc. and All In Production LLP) about $2 million each. Assuming the accuracy of these figures, that puts the company over $3.8 million in the hole.
In itself, news of the league's failure is hardly surprising to many people who had seen their "business plan". After all, how can you haemorrhage money like that and expect long-term sustainability? That said, certain aspects of the situation are worth further looking into.
Background
Epic league member Matt Matros

Season one of the Epic Poker League was scheduled to include 5 events - 4 $20,000 buy-in tournaments with $400,000 in added prizes per event, as well as a $1 million freeroll for the top 27 overall performers from the first 4 events. Participants in each event were all either EPL members or won seats via "Pro/Am" satellites.
Considering the vast majority of potential entrants to each event were world-class tournament poker professionals, players needed some incentives to bother entering. After all, even if you're a top-notch pro, you may not want to join a field where everyone else is a shark as well.
I asked 2-time WSOP bracelet winner and Epic league member Matt Matros what he thought when he was deciding whether or not to participate:
"For me, determining whether or not to play in Epic events was a complicated decision. The biggest factors were the added money and the expected field size, but other factors came into play - like potential television exposure, opportunity to improve by facing the best in the game, my tax situation, and scheduling conflicts. I tried to view the added money on a tournament-by-tournament basis first, and then consider the million-dollar freeroll second."
Even including the massive amounts of added value, entering Epic events wasn't an easy decision, even for a world-class tournament expert like Matros.
Accounting for the expectation of added value
$650k of added value per event

When considering whether or not to enter events, most players probably looked at the actual value they were receiving for their $20,000 buy-in:
$20,000 in tournament equity + ($400,000 in added value/# of entrants) = Single-Event Equity
Free accommodation is nice, of course, but I have chosen to leave that out of the equation because it is an expense that would not be incurred unless players participated to begin with, and thus this bonus is not profitable.
With such a shark-infested field, some players would surely have still been on the fence once they had evaluated their equity for any given EPL event. The promise of a $1 million freeroll for top finishers, however, may have pushed some of them over the edge.
One can reasonably distribute the $1 million promised in the freeroll over each of the 4 previous events. While the expected equity in a single event is the formula listed above, the expected equity assuming players participate in ALL 4 EPL events actually increases somewhat considerably, as you can include an additional $250,000 in added value to each event:
$20,000 in tournament equity + ($650,000 in added value/# of entrants) = Single-Event Equity, assuming a player participates in all 4 EPL events
Many poker pros decided the league was worthwhile to participate in, based on the assumption that their equity included the possibility of making the freeroll. The freeroll was on the EPL's schedule from its inception, and it would be completely reasonable for players to have assumed they had the cash to back it up.
Numerous league participants inquired about the financial situation of the EPL and were assured by Annie Duke and others that the league had plenty of time to find its legs and become profitable. The implication of these assurances, in the eyes of many, was that the EPL had the cash on hand to complete its first season.
Unethical?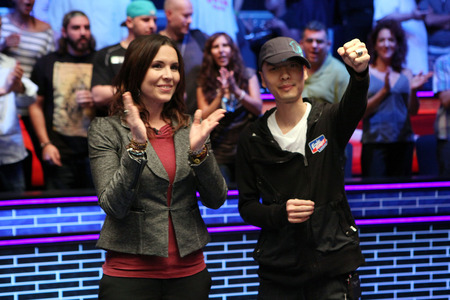 Annie & Chino at event #1

With their recent bankruptcy filing, it is highly unlikely that Epic will ever come up with the funds to hold the $1 million freeroll they had been promising.
I would personally argue that the league's advertising was misleading to begin with. They didn't have the cash to back up the value they claimed to be contributing to events, and that in itself was unethical in my opinion. Players chose to invest their money in tournaments based on a set of assumptions which were presented to them by the EPL, and those assumptions turned out to be incorrect.
An alternative viewpoint can exist, however. Perhaps Epic did nothing significantly wrong if they had a source for the money which they simply lost during the course of Season One (obviously losing their backer is an occurrence they would not have anticipated).
J.B. Pritzker was one likely source of funds for the league. Pritzker is a billionaire who was listed as a member of the Board of Directors on Federated Sports + Gaming's
website
until recently.
Let's assume that Pritzker was the planned source of the $1 million for the freeroll, and that he dropped his involvement with Epic. What should Epic have done then?
At the very least they owed this information to the members of their league. After all, players who had cashed in previous EPL events were actually losing equity they had earned in the league. How? Consider the implication of the loss of the freeroll on those individuals who had earned leaderboard points. Previously, those points were worth equity in the freeroll - now they no longer were worth anything.
More importantly, when the EPL learned of the loss of their backer, they absolutely needed to let all league participants know this had occurred before any other events took place. Otherwise, they would be allowing players to enter a tournament under the assumption that the added value for that tournament was higher than it actually was, and that is highly unethical. While it is possible they did this, it is somewhat unlikely (see below).
The postponement of Event #4
Epic Poker League Event #3 began on December 15th and concluded on December 19th. Members of the EPL first found out that Event #4 was being postponed on December 21st, via an email from EPL Commissioner Annie Duke.
In that email, Duke stated that the reason for the postponement was because of player feedback requesting changes to the events. The email continues: "So, in response to your clear feedback, we have made the decision to move Event 4 away from the January and February dates to later in the spring and at a time that will allow us to run the Pro/Am and Charity Events during the same week as the Main Event."
While such feedback may have existed, it was also widely rumoured in the poker world that the EPL was frantically searching for a new financial backer during Event #3. This leads me to believe that the postponement of Event #4 actually happened because the league didn't have the money to run the tournament. They needed extra time to find the cash for it.
If Epic's financial backer dropped precisely during the 6-day span after Event #3 had started but before Event #4 was postponed, one can argue they reacted appropriately to unfortunate circumstances. If, however, Epic's financial backer dropped before Event #3 began on December 15th, then it would be easy to conclude that the league acted unethically in running Event #3 with no warning to its players.
What would Epic's Standards & Conduct Committee have to say about that?
Conclusion
Will season 1 continue?

I don't want this column to demonize the EPL more than it deserves to be. By no means is this situation at the same level as some of the true scandals in the poker world, and I hope I haven't invited any ridiculous comparisons to other far worse situations.
In fact, Epic was well-known for treating its players and employees exceptionally well. Additionally, it is bizarre to look too harshly at a company that added a huge amount of value to their tournaments, even if that value turned out to be less than they had claimed it would be.
Matt Matros shared some additional thoughts on the league which echoed the thoughts of the majority of the league's members:
"Adding 20 buy-ins to a field of only 100 players (and sometimes less) makes for a strong investment on its own, strong enough that I probably would've played the first three Epic events even without the freeroll at the end of the tunnel. We're all still hoping the freeroll happens, but I've been looking at that particular event as bonus value on top of an already high-value tournament series."
Does Epic owe money to players who held leaderboard points towards the freeroll? Perhaps ethically, but probably not legally. Epic may have run their business in a slightly unethical fashion, but did it do so with malicious intent? I would certainly think not - they gave away over $1.2 million in added prizes to their tournament participants!
Will players be immediately willing to rejoin the league if they find a new source of cash? You can count on that. If the EPL receives a second chance with a new financial backer, pros will once again flock to the added value. Perhaps this time, however, they won't simply accept "Don't worry about it!" as a good enough explanation of where the funds are coming from.
by Matt Kaufman