0

This post has been edited 1 time(s), it was last edited by FrozenRope: 03.08.2008

22:53

.
Hello all, and welcome to my poker story.
I really didn't want to start a blog, but I figured it would be good for me and my game to write about things as I go. Much the same as others so I can look back and say wow I used to play small stakes.
Well a little about me, My name is Cathie, been married for 17 years and have a hubby and 3 wonderful teen aged boys, 13,14 & 16. I live in Toronto Canada.
My interest in poker has been a long one, I used to play in the charity casinos they had in Toronto, before any real Casinos in Ontario were built. In these games poker was limit holdem , No limit wasn't in the boom yet. Basically played $1-$2 to $5-$10 live. Bankroll whats a Bankroll???
From there Ontario established a few Casinos, The Great Blue Heron in Port Perry, Charity casino but had a full Casino feel. Than a few years later came Rama, and Casino Niagra.
Port Perry is where I really learned how to play limit holdem. I played there often. $10-$20 to $30-$60, I was a winning player however, BRM, what the hell is that. I have a good job and income that I can use for entertainment, thats what I figured. I would take my $500 to the Casino and sit down at the tables. When I cashed out the money went into the family bank account. I never really understood why I needed a seperate bankroll.
Well I never really kept track of wins and losses, however I had been successful, to take trips to Mexico and Florida several times.
About 2 years ago I was introduced to online poker. I was a total fish. Lots of money and no sense of BRM. I started several accounts, Party Poker, PokerStars, Doyle's Room. I would deposit, loose, deposit and loose, really it was a cycle that was never ending.
Well one day hubby said no more depositing, I figured I had better learn a thing or two. So I started with one of my best friends google, I found sites about Poker. Stoxpoker, 2+2, Pocketfives, CardChat. I started reading others blogs at Stoxpoker mainly and was extremely jealous of the success of some of the players. I told myself one day maybe one day I to will make some money out of this hobby of mine. I watched the free videos on several sites.
With this help, on PokerStars or sometimes JokerStars. I increased my BR to over $3K I withdrew most of my account which I now find out was a mistake as its hard to move up limits withdrawning from your poker account. Needless to say I haven't had to redeposit. on PokerStars. My current BR there is around $200.
Then I stumbled upon this wonderful site PokerStrategy and register on 29.01.2007. I really thought this was a scam as nothing is free so I forgot about this site for over a year. I found the site again in 08 and tried the quiz, I passed with flying colours and figured I have nothing to loose. A few days later to my surprise I had money in a new account on Titan poker.
Things started good with my new found capitol, I have been a FR FL player for years but at first I thought I would try some NL, things went ok but not great Br was slowly growing. I read every article, and read them again. I have printed copy's of all charts which are really handy to have. I watched every video available. With my new found knowledge I figured I would do well but things went bad with NL so I decided in Early July to stick to what I'm good at which is FR FL. I looked at my stats in Holdem Manager and it was obvious that I'm better in FL.
Again I read every article, watched every video for FL printed out all charts. At this point of my realization I was a breakeven player with having the money PokerStrategy $50 + $100 around $150 give or take. Here is a graph upto the end of July.
Started out with a serious hot streak and slowly winning.
Now I would like to say that if I didn't enjoy other forms of poker my bankroll would be higher. Through this site I have enjoyed the people I have met. I joined the BOTD and had a absolute blast. The people are great, that play in this and have been an inspiration to me to better my MTT game. The teams all Join in IRC #pokerstrategy-en on the Quakenet. I recommend to anyone still reading this novel to join the channel anyday. This is a great place to ask experienced players advice on hands, have players sweat you in games and help with decisions. I would like to give a huge thank you to Cannell aka Stievro, SoyCD, TriBun, Awish, Velak and I can't forget Kelekin. These people are first class and are extremely helpful. I'm sure I'm missing a few of the IRC peeps out for that I'm sorry. Everyone is great. nice to chat and play and have lots of people hands to talk about poker 24/7.
Well through talking in IRC I have since tried my hand at SNG, a few MTT and FreeRolls. As I said if not for playing these other games that I"m a total donk at my BR would be really sharp.
I entered the WCOOP event #3 sat and won my seat to this event which is fantastic.
Today I entered the PokerStrategy Bronze Freeroll I had the help of my friends in IRC that supported me through out this event. I won $80 for my efforts. Which helps a micro limit player.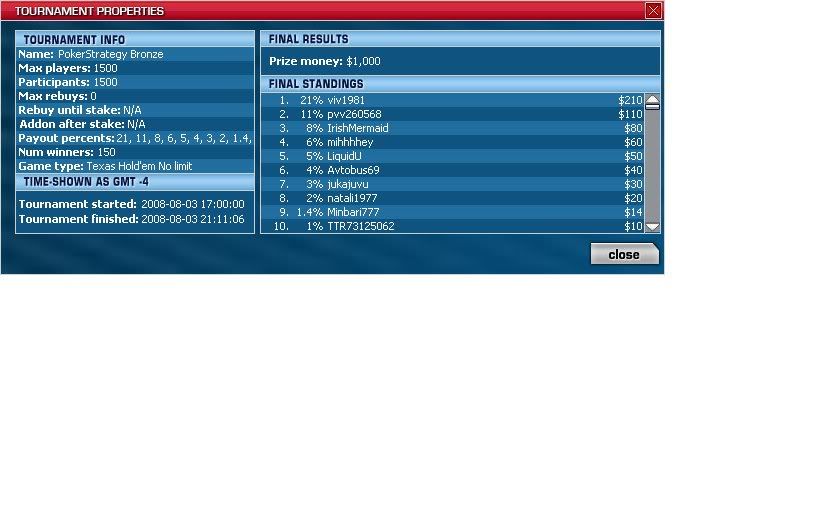 This weekend I also really multitabled. I never really played more than 4-6 tables at once. This weekend I played a few short sessions of 1 hour playing 16 tables of $.25-.$.50 FR FL which was a lot of fun. I really tightened up and played maybe top %10 of hands. Had some success.
With everything and my BR stands at $413.64 on Titan and $262 on PokerStars. I only play on PokerStars Sundays for the BOD and a few times if things go really bad on Titan. I will continue to play $.25-$.50 as I'm comfortable on the level at least till I have over $500 then I may move up a level.
My goals are
1. Have a strong placing in the WCOOP event
2. Continue to be strict with my game choices, play FR FL only
3. Read articles, and watch a video at least one every day.
4.Post hands as often as I can, its fewer for me as IRC we talk about hands regularly
5. Move up slowly
6 One Day be playing $3-$6 and higher, where I can use this to help out family and friends.
Will try to keep this updated as much as possible, hopefully a few of you made it to the end. I encourage others to join IRC at any time.
Good Skill to you all. See you on the felt.