+4

This post has been edited 3 time(s), it was last edited by Jakkosh: 19.05.2016

14:46

.
Health + Energy Vs Performance
May 2016 - Reworked my Blog and changed Blog Title and format to MTTs starting from
Page 3
Hello fellow PokerStrategists! Welcome to my blog! Before I start im going to give a quick warning that sometimes I talk alot!
My name is Jack, im 26 years old and I live in England. I have been playing poker somewhat casually on and off for a few years now. I haven't really made much progress in the way of profit, but I do believe I have improved my game slowly over time. After exploring different formats over the years I have finally settled on 6-max normal tables at Pokerstars. The decision to go for 6-max has been a recent (but definite) one, so my journey will be starting from the beginning.
After being a lurker for quite some time and making excuses to myself of why im not going start my blog yet, I have finally come to a place where I feel confident enough to get it going. I have put it off for such a long time because for this to work in the way that I want it too I kind of have to go into some personal areas of my life more than some other blogs, in order to really compare my mental and physical state to my results. I guess it could be compared to a mental game diary in a way. This blog is actually going to be very important to me in many ways. Its going to be a bit of an unusual blog, it may or may not be for everyone for the following reasons:

1) Its main focus will concentrate on my health, and how the variance of my illness corresponds with the variance of my results. This is going to be very useful for me to look back on, and hopefully I can make some conclusions from this and perhaps get some insight and form some kind of plan to help things go along more smoothly for me.
2) The nature of the blog will involve alot of mental game talk rather than the technical aspects of poker, although I will try find a nice balance of the two and include some hands, mistakes ect
3) Due to the nature of my illness, which is called M.E and/or CFS, I cannot promise how frequent my updates will be, or the volume of hands each week will produce. The plus side of this though is that if im too ill to play, ill be more likely to be on my blog, forums or lessons so I can still be advancing to some degree.
4) I have a tendency to write walls of text!

M.E / CFS & Poker
I have talked about this a fair bit in my intro thread already and don't want bore anyone too much! But anyway M.E involves many different symptoms which basically makes it hard to do pretty much anything some of the time! It can be very debilating, involves a lot pain management and can make it very hard to think and concentrate. In basic terms its when your immune system is permanently thinking something is wrong, when it isnt! For anyone who may be interested the easiest way to understand it is with this
link.
Some may say that just those things alone will make poker an impossible dream, as we all know poker requires constant attention and determination. But poker is more than just poker for me. Aside from the fact I love the game, for me its one of my only options to still try and make something of myself, as and when I can. The illness has swings just like poker, which, just like poker, you cannot predict when it will be up, or down. For that reason I cannot reliably work, and I have other responsibilities to care of anyways. So for me poker is a form of escapism and a possibility of achieving something until i recover.
When I research illness and poker 95% of the advice given is to just not play and just wait until you get better. But I must to choose to ignore that! Im going to work on my mental game, read both of Jared Tendlers books and whatever else i can get my hands on.
My determination gets in my way with poker, and I try to play, even when I know im too ill that day and am most likely playing my F game. This often comes across in my graphs. So that's the inspiration for this blog, if I keep a diary I should be able to recognize these patterns visually and behave myself!
The Positives
Its not all doom and gloom! Positives must be out of bad situations and I do have some advantages. Because im unable to work for a company in a reliable fashion, that means when im not taking care of my other responsibilities, I have more time to put into poker, whether that's learning or playing or even on the worst days just watching wsop on youtube
Another huge advantage I have is I have a poker partner, we play different formats but its still invaluable to have a second opinion with hand review in hm2! He is actually blogging here too, which I am going to shamelessly plug and
link!
And I guess another positive is that, although My A-game is often unachievable, i do sometimes get by quite well on my or B or even C game. If I could just recognize my stubbornness to try and play regardless of how I feel, I should start to gain a more positive ev. This blog will help me to do that.
Goals

1) Write in my blog as often I can, comparing my graph results with my energy/health for the day
2) Try to pinpoint hands that were bad luck or bad concentration
3) Battle my way through 6max 10nl and move up instead of down!
4) Learn something from PokerStrategy every day, if possible
5) Evaluate trouble hands more often, and be brave enough to post my stupid mistakes!
6) Be as prepared as I possibly can to start the long grind from January onward. I know that supernova is way out of my league, seeing as im a beginner in my chosen format, the stakes that im playing wont make me enough points and that im unable to stick to a decent volume schedule. But im going to see how far I can get anyway. No harm in trying and seeing how far I can get!
I am aiming to be on 25nl, or close too it, as quickly as possible. I don't mind setting myself a difficult goal, and if I don't make it, no harm done ill just try again next time. Maybe I could at least make some money in the journey, I would be happy enough with that.


If anyone was wondering what the black cats are all about, my cat is 19 and I am 26, so we have grown up together! When I sit at my desk and play she jumps up next to me and watches me play and brings me good luck. She will always be my lucky mascot!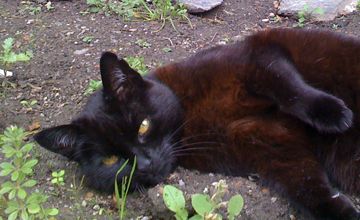 This is my tiny sample starter graph, most of these hand were done with no prior knowledge of 6-max so im not too unhappy! The hands are a mixture of 2nl 5nl and 10nl as I seem to be more comfortable in the nano limits at the moment. My BRM, which is 25BI+ means i should be playing 10s though, so I guess I'll be playing that from now on, whilst gaining more knowledge through articles and such.
If you have made it this far, then thanks for listening!
at the Tables